ALL-N-ONE SERVICES, L.L.C.
All-N-One is an award winning multiple services staffing, executive search and computer software training corporation headquartered in Humble, Texas. We provide local, regional and national staffing solutions.
Our recruiters utilize a comprehensive and evaluation process to match top companies with the best talent, quickly and efficiently. Our mission at All-N-One Services is: "to fully understand the needs of our clients and candidates and provide value and quality services".
All-N-One promises to help meet your goals with a caring, committed and customer-first attitude. The company has over ten (10) years of service providing staffing solutions in Houston and surrounding areas. All-N-One is unique because of our culture and delivery.



ALL-N-ONE speaks about Getting Down to Business with Capital One

Ann Guliex, President of All-N-One Services staffing firm and 2011 program graduate, said the credit counseling aspect of the program was essential in helping her position her business for long-term growth and success.
"The credit reports from Money Management at the beginning and end of the program were excellent sources of information to fully understand what was needed to improve credit ratings and scores."
Ann also emphasized the need for participants to remain consistent to reap the benefit of the "Getting Down to Business" Program.
"Be totally committed to the program for the 7 or 8 months and you will leave the program with a better understanding on what direction to take your business and how to build and grow," she said. "You get out of the program what you put in." Read the full story
here ...
---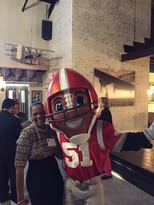 Super Bowl LI Award
ALLN1 won a contract with Party Planners West for Temporary Staffing and Payrolling.
We provided staffing for Party Planners West, Fed-Ex, Old Splice and Wilsons for the 2017 NFL Experience. We provided payrolling for Area & Zone Managers for Party Planners West. We staffed for the following positions: Sales Associates/Cashiers, Brand Ambassadors and Radio Distribution Receptionist.

---
---
ALL-N-ONE SERVICES, L.L.C.
P.O. Box 2584
Humble, TX 77347-2584
281-812-3553 phone
281-812-2104 fax